You want to book a holiday or simply want to get more information?
Do not hesitate to contact us, by phone, email, or directly with the contact form below. Flo will answer you very soon!
To book a ride, click on "BOOK NOW" on the right side of this page.
We do not hire staff. We are not looking for interns or volunteers either.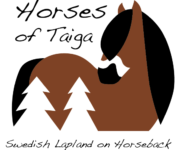 Horses of Taiga
Floriane Colonnier
Svansele 436
93693 Boliden
Sweden
Phone (8 am to 7 pm): +46 (0)733 285 626
Email: [email protected]
We speak: English, Swedish and French