You want to book a tour or simply want to get more information?
Do not hesitate to contact us, by phone (8 am to 7 pm), email, or directly with the contact form below. Flo will answer you very soon! Check you spam box if you haven't got an answer within 24 hours!
Info bookings winter 2021-2022
During the winter period, we have mostly week tours. Therefore we have very little availablility for short rides and day-tours. Only the following times/periods are available for booking.
4 December – 11:00 – 2-hour family ride: 3 places left
8 January
2 February
5 February
10-12 March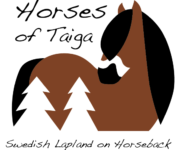 Horses of Taiga
Floriane Colonnier
Svansele 436
93693 Boliden
Sweden
Phone: +46 (0)733 285 626
Email: [email protected]
We speak: English, Swedish and French