You want to book a tour or simply want to get more information?
Do not hesitate to contact us, by phone (8 am to 7 pm), email, or directly with the contact form below. Flo will answer you very soon! Check you spam box if you haven't got an answer within 24 hours!
Info booking spring 2021
The winter season is now over. The horses take a well deserved holiday while the snow melts and the grounds dry. We start again in the end of May. Welcome to book a tour then!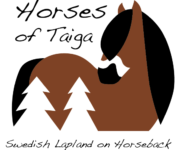 Horses of Taiga
Floriane Colonnier
Svansele 436
93693 Boliden
Sweden
Phone: +46 (0)733 285 626
Email: [email protected]
We speak: English, Swedish and French